Right where you are, God is calling you to a life of meaning, purpose, and belonging. The Nav20s Gathering will be a unique opportunity to join with others from across the nation as we center our lives in Christ and live as Good News in the flesh during a time of adversity. If you have a heart to know Christ and make him known among young adults, please join us online this November!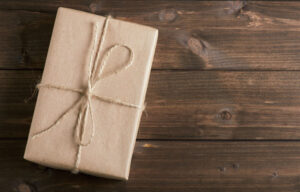 The first 100 people to sign up will receive a SWAG BOX full of books and other fun stuff!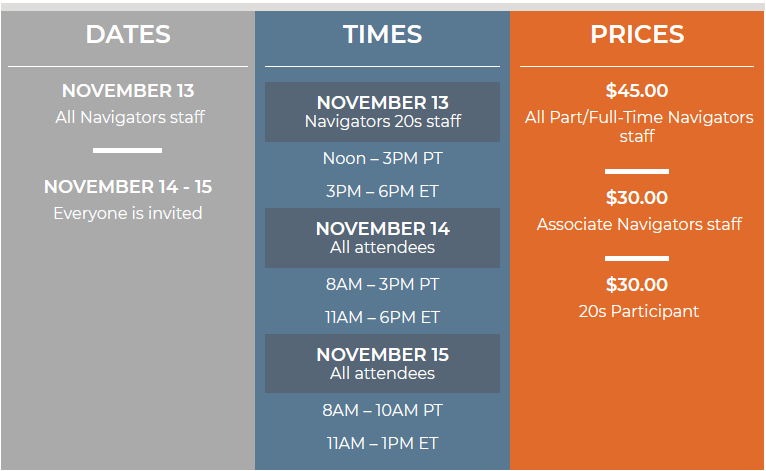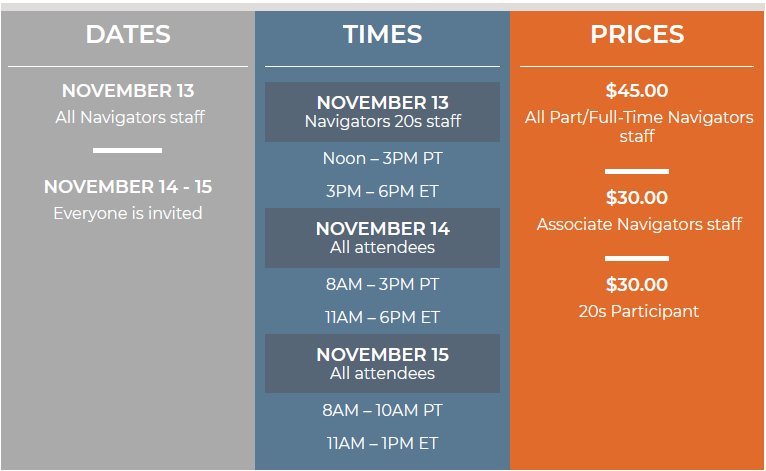 WORKSHOP INFORMATION
Living Out of Christ-Centeredness
· Pursuit of Faith – God pursues us first, but we're called to pursue Him, too. How do we steadfastly seek Him and trust His work to shape us in our identity in Christ?
· Pursuit of Vocation – We are created in Christ to work with meaning. How does God call us to contribute through our jobs and everyday activities?
· Pursuit of Mission – God sends us out with a purpose to make Christ known to the world around us. How can we actively live out the Great Commission right where we are?
· Pursuit of Community – We are made to find belonging with one another and share life with other followers of Christ. How can we foster relational networks that are united by the Spirit?
The Context of the Gospel
· Ethnicity & Racism – God created diversity and His good plan for eternity includes people of all cultures. In a time of palpable racial tension, how do we seek reconciliation and help bring about Kingdom justice?
· Gender & Sexuality – Our sexuality is a part of God's good design and a picture of His relationship with us. How do we view sexuality through a Biblical lens and engage a culture with disparate viewpoints?
· Politics & the Pandemic – Jesus is the good King of kings and sovereign over everything we endure. In an election year marked by divisiveness and unprecedented circumstances, how do we remain faithfully engaged?
· Money & Generosity – Every good gift is from God and ultimately belongs to Him. How do we steward the resources He entrusts us with and use them for His purposes?
SPEAKERS
Al Engler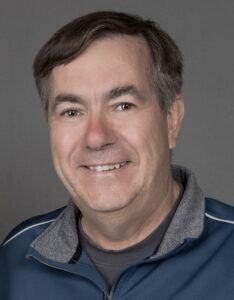 Al joined the Army at age 17 and was assigned to Germany, where he met and married a young German girl named Iris. Al and Iris both trusted Christ during their second assignment to Germany. The Navigators gave the Englers discipleship training over the next several years while Al was on active duty. In 1986, the Englers left military service to join Navigator staff. Al remained in the army reserves. Al and Iris have served in cross-cultural missions, city leadership, military, and campus ministry as well as organic ministry among neighbors, friends, and family. Al currently leads Disciplemakers for Life, harmonizing the unique contributions of Neighbors, Workplace, I:58, 20s, and Navigator Church Ministries. Al and Iris live in Seattle and love to be outside whenever the rain stops.
Wanda Anderson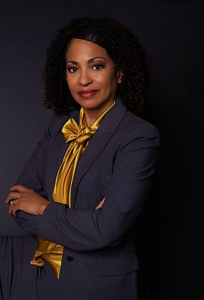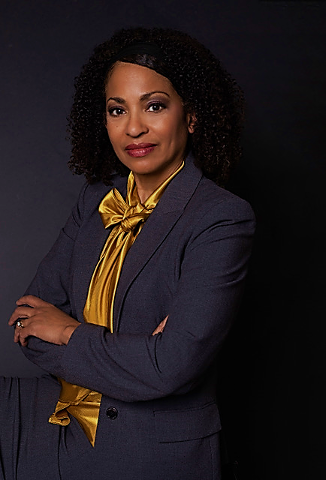 Wanda G. Anderson is a native New Yorker who settled in Colorado Springs 23 years ago. In 2016, Ms. Anderson came to The Navigators as the director of Corporate Affairs and Risk Management. She received her juris doctor degree from Regent University School of Law in Virginia Beach, Virginia, and her bachelor of arts in mass media from Hampton University.
Ms. Anderson brings almost 30 years of multi-jurisdictional nonprofit governance, risk management, and compliance experience.
For the last 14 years, Ms. Anderson has served as co-pastor with her husband, Rev. Benjamin Anderson, senior pastor of Solid Rock Christian Center. Together they have four daughters and ten grandchildren. Ms. Anderson describes herself as a justice advocate who enjoys writing poetry, motivational speaking, and providing women with educational and spiritual resources across generational lines leading to personal and professional development.